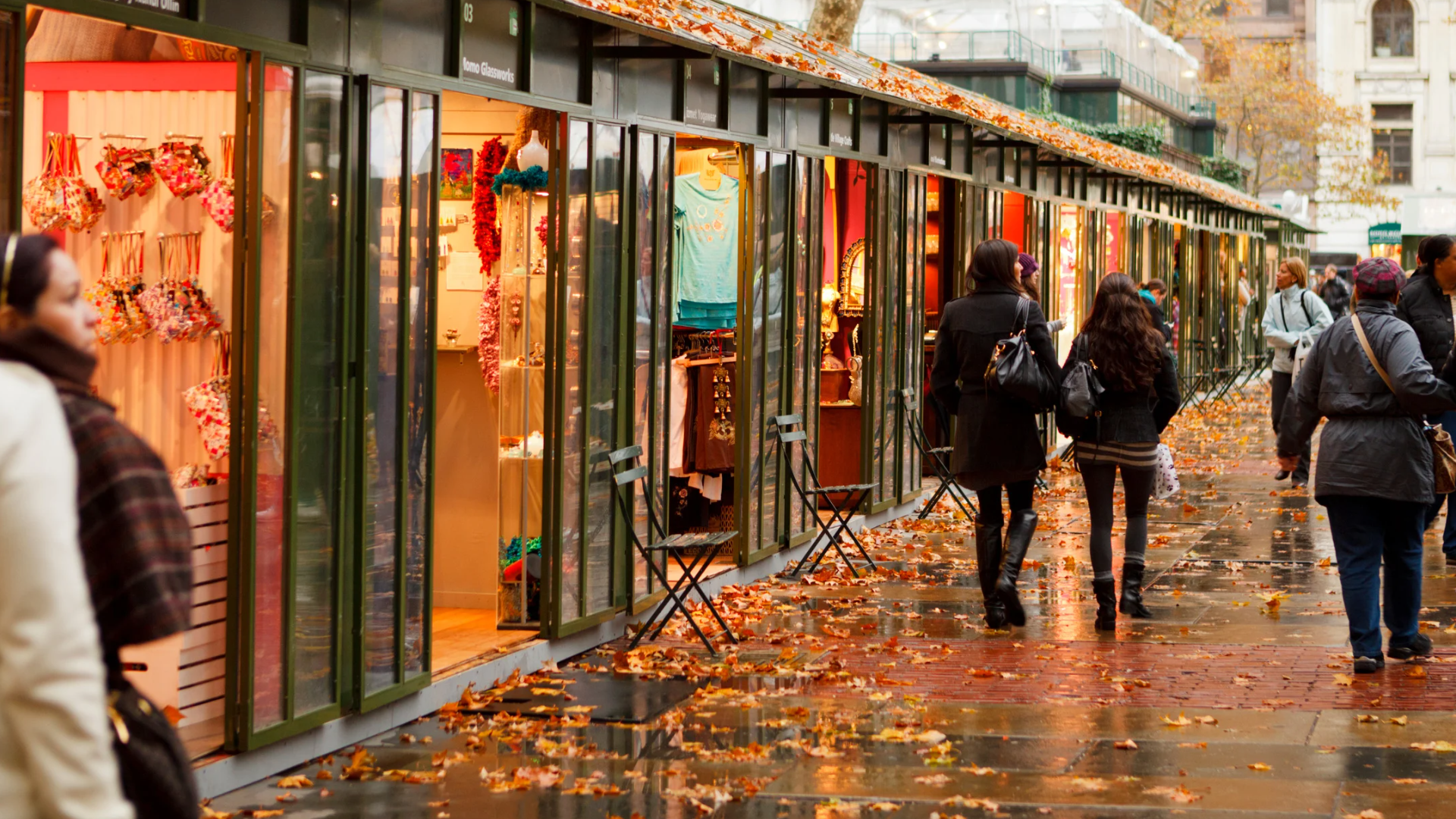 The Holiday Market in Boston Seaport, now turned Snowport, features more than 120 small businesses. and craftsmen, a tree market for all of your evergreen needs, and a limited-time festive menu from pop-up restaurants and snack shops. See our top picks!
Food & Drink
Cheese Louise
Cheese Louise's menu features gourmet grilled cheeses like The Vermonter, a classic grilled cheese, The Gobble Gobbler, a take on a Thanksgiving grilled cheese, and The Pork-Y-Pine, a take on a BBQ pulled pork style grilled cheese. Their menu features additional grilled cheeses, salads, sides, and even pickles.
The Nada Cart
What's better than a snack wrapped up in an empanada? Their menu features creative savory empanadas like Beantown with black beans, squash, red pepper, and scallions, The GOAT with mushroom, leeks, and goat cheese, and Que Choclo! with roasted corn and cheese.
Hudson Valley Farmhouse Cider
Hudson Valley Farmhouse Cider will have baked goods, apple cider, and all the goodies you think of when you think of Christmas time. Be sure to stop by and try their homemade apple cider or gift a bottle to your Christmas dinner host.
Apparel & Accessories
Rainy Socks
Love your pet so much you want them with you all the time? Now that's possible with Rainy Socks! They have socks with all different types of dog breed prints and even cat breed prints. Find your furry friend printed on a pair of their socks. This makes the perfect stocking stuffer for pet lovers.
Petunia
Ever fallen in love with a purchase from Etsy? Stop by this hip and trendy pop-up shop at the Holiday Market to shop her Etsy shop. Petunia features instagrammable clothing and accessories for females. Her vibrant designed clothing will be sure to get you likes on social media and attention on the street.
Simply Chickie
Simply Chickie is all things baby! They sell 100% organic, and 100% USA-made baby clothing. They even have the seal approval from The National Parenting Center. Some of the items they offer are onesies, hats, blankets, bibs, and even gift sets that are perfect for gifting.
Gourmet Gifts
Barry's Hot Sauce
We all know someone who puts hot sauce on everything. Barry's Hot Sauce will have everything you could think of and then some. With hot sauces like Habanero, Thai Chili, Jalapeño, Original, and even Ghost Hot, this place is your one-stop-shop for all things hot sauce.
OneBiteSweet
Here you'll find unique Turkish baked goods. There's no better gift than something that is edible. You can find Turkish keychains, little toys, soap, pastries, cookies, and coffee.
Otherworld
Otherworld sells plant-based and gluten-free baking mixes made with real fruits and veggies and no sugar. You can get pancake and waffle mix or brownie mix. Some pancake and waffle mix flavors include apple cider, blueberry, original, and banana chocolate chip!
The Holiday Market will be open seven days a week, Monday-Thursday, 3pm – 8pm; Friday-Saturday, 11am –9pm, and Sunday, 11am – 8pm.

ABOUT THE AUTHOR
Hey, guys! It's Brianna, the Content Creator at Compass. Find me here on LinkedIn and we'll connect!