Hey there! I'm Brianna, the new Content Creator here at Compass Furnished Apartments. What I do is all about creating content and connecting it back to our values, mission and purpose. It's about looking at marketing trends, analytics and presenting the company through creative outlets. I can't wait to start showcasing some of the thing that I love about our company through my creative work and voice.
Want to learn a little bit more about me? I graduated from Quinnipiac University with a major in Public Relations and a minor in Marketing. I have 1 older sister who lives in New York City and is always traveling all over the world. My favorite color is orange and my nickname is "B". I love to cook and am always up for a challenge!
Pack Your Bags!
I love to travel! My favorite place I've ever visited to this day, is Virgin Gorda in the British Virgin Islands. I have been very blessed with being able to travel so much at such a young age. From airports to taxi rides to cruises, I've found the joy in the entire process of traveling, from start to finish... even if a flight is delayed.
Here's a list of a few other memorable places I've visited: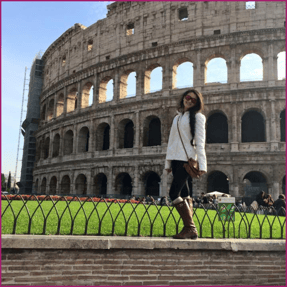 Cozumel, Mexico

Rome, Italy

Florence, Italy

Key West, Florida

Los Angeles, California

Punta Cana, Dominican Republic

Ocho Rios, Jamaica
Yes, I'm a foodie! I grew up in a house where my father was an amazing cook and my mother was a spectacular baker. At a young age, I built strong relationships with my parents in the kitchen and through cooking and baking. I learned all I know about cooking from both of my parents and pride myself on being able to cook as it is a skill not many have!
I loved cooking and baking so much, that I considered going to culinary school at Johnson & Wales University in Rhode Island. I experimented at home with cake decorating and making truffles which made me realize that it wasn't the career I wanted, but more of just a creative hobby that I've taken up. One of my favorite cooking movies is No Reservations!
I was so overjoyed to learn that Mama G, our Guest Services representative for CT and MA also has a passion for cuisines and cooking! I can't wait to swap recipes with her and share stories about being in the kitchen and cooking.

I'm a strong believer that it's the little things in life that drive our happiness on day-to-day basis. Like getting the window seat on an airplane, or when someone in line ahead of you pays for your coffee. Or catching sunset or sunrise on the drive home. I urge everyone to train their minds to see and enjoy the little things in life.
The more you challenge yourself, the smarter you become. Without challenges and hardships in life, we wouldn't be able to grow as a person, and intellectually. Challenge yourself daily and watch the changes and inner growth start to erupt.
These mindsets and attitudes are particularly important to me when working towards Compass goals. I try to incorporate the way I think with the way that I perform. By challenging myself on a day-to-day basis and seeing the joy in the little things, I strive to create an inspiring and memorable experience for Compass Cares guests that allows them to also find the joy in the little things we do and provide.
There's a lot to like in this world, especially when looking at the little things. I am always doing my best to incorporate a few of my favorite things into my day-to-day life. Take a look at what some of my favorite things:
French macaroons


Hanging out and catching up with my dad

Traveling

Animals

Driving & listening to music

Starbucks coffee

Being by the water

Exploring new restaurants

A pretty sunrise and sunset

Surprising people

Keep An Eye Out
I'll be giving you a look into what we do, how we do it and why we do it! You'll get all the inside scoops, new announcements and behind the scenes from me. Be sure to subscribe to our emails, check out our blogs and follow us on Instagram, Twitter, Facebook and LinkedIn so you don't miss out on any new industry highlights!

ABOUT THE AUTHOR
Hey! It's Brianna, the Content Creator at Compass. Find me here on LinkedIn and we'll connect.