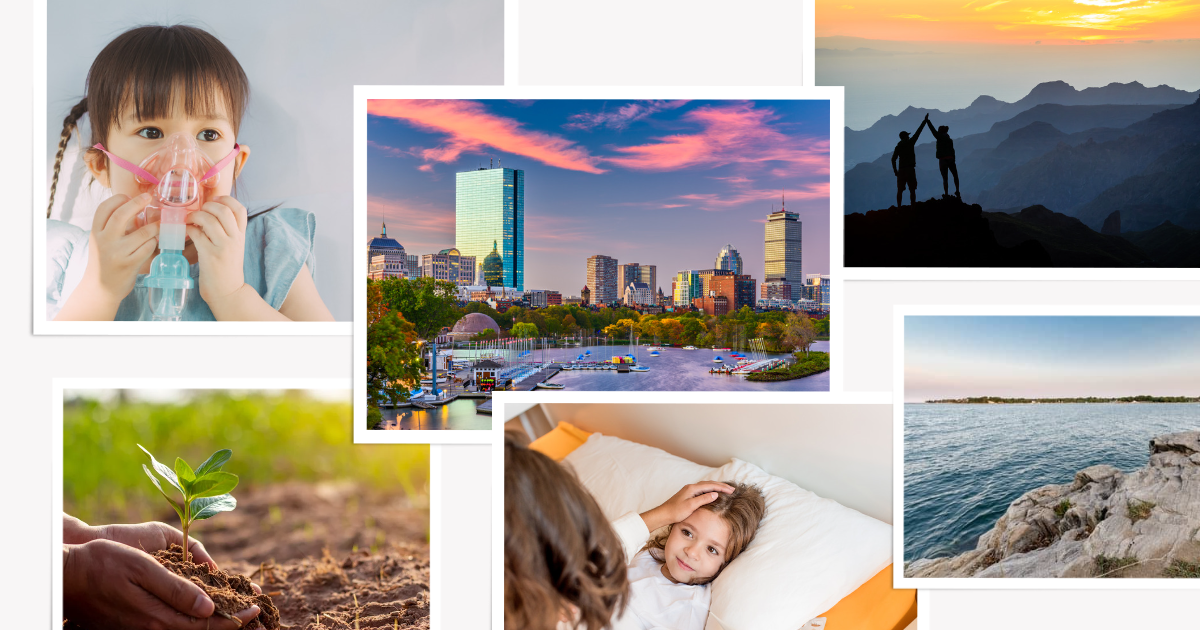 For us, business is more than profitability and growth. Instead, we believe business should be a force of change. Our Compass Cares program is woven into everything we do and is part of the fabric of who we are. Through our Compass Cares program, we're committed to improving company culture, focusing on sustainability, and supporting our community.
At the heart of Compass Cares are the patients and families traveling for medical purposes. Our private and convenient living spaces provide them the comforts of home so they can focus on healing.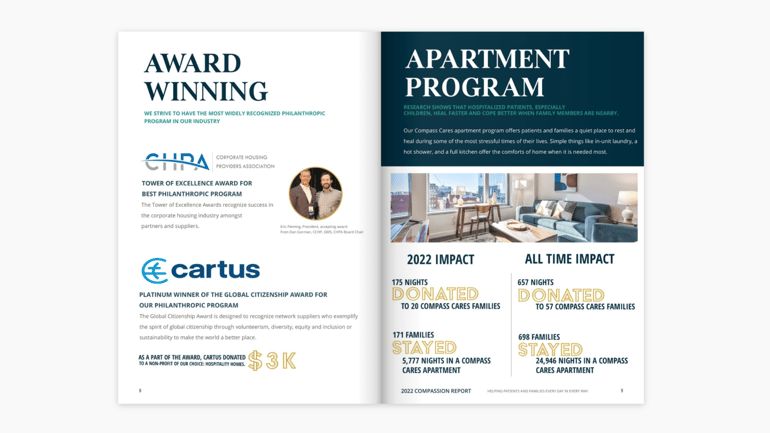 Apartment Program
Compass Furnished Apartments
Our Compass Cares apartment program offers patients and families a quiet place to rest and heal during some of the most stressful and challenging times of their lives. Simple things like in-unit laundry, a hot shower, and a full kitchen offer the comforts of home when it is needed most. Our Participating Partners have amplified our ability to provide comfort, love, and healing through their thoughtful donations and are a testament to the notion that, "Together, we do more good". Read more on page 9 of our 2022 Compassion Report.
Compass Cares Family Feature
The Parsons Family
Hear it right from a Compass Cares family in our 2022 Compassion Report. The Compass Furnished Apartments and Hospitality Homes family gets to share their story in their own words about their experience with our Compass Cares apartment program and purposeful partnership. Read more on page 10 of our 2022 Compassion Report.
Serving Our Community
Our Compass Cares program allows us to make a difference in our local communities through sustainability, donating, volunteering, and more. Read more on page 12 of our 2022 Compassion Report.
Making Living Sustainable

We strive to make the world around us better through our dedication to thoughtfully selecting sustainable products and innovations, green initiatives, and our service to our local communities.

Hospitality Homes

Hospitality Homes is a nonprofit organization that provides short-term housing in volunteer host homes for patients receiving medical care. At times, their guests are unable to share housing with host families. Compass Cares has flourished and continues to serve as a unique resource providing private accommodations so Hospitality Homes never has to turn a patient or family away.

Boston Children's Hospital

Boston Children's patients come from all 50 states and nearly 100 countries for care they can't get anywhere else. They provide expert care for kids with the rarest diseases and complex conditions. Because our desire to make a positive impact in the communities where we work and live is embedded in our culture, we established a multi-year commitment to support kids and families at Boston Children's. In 2022, we completed our multi-year commitment with a total of $100K donated to The Room to Heal Fund which benefits the Hale Family Center for Patients and Families.

Do It Like Dan

We sponsored the 1st Annual Choose Your Own Adventure Day to raise funds and awareness for Amyotrophic lateral sclerosis (ALS). Do It Like Dan is a non-profit dedicated to raising awareness of ALS, the research and development of therapies, and supporting the individuals and families affected by the disease. This event raised over $150K to support the Jones Family and the Do It Like Dan Foundation.
It's All About Partnership
From creating relationships with our like-minded partners to raising funds through our clients' purchase of housekeeping & parking services, our Compass Cares program allows us to go the extra mile and provide support for those in need. Read more on page 18 of our 2022 Compassion Report.
30 Dalton

30 Dalton in Boston, MA generously donates their guest suite to our Apartment Program for patients and families in need. With close proximity to hospitals, the comforts of home like in-unit laundry, a kitchen to cook in, and the ability to help more patients and families, our property participating partners play an important role in our Compass Cares initiatives.

Vybe Interior

Our ArtLab Living and Compass Cares programs bring Vybe Interior's unique artwork to our apartments to create elevated experiences that promote happiness and inspire healing. They generously offer our guests a 30% discount when purchasing artwork on Vybe Interior's website.

Lisa Rogers

Lisa Roger is a local artisan who generously donates her time, energy, and materials to create thoughtful therapeutic toys and accessories for children staying with us through our Compass Cares program.

Love Your Melon

Love Your Melon gifted reusable masks and child-sized beanies for our pediatric welcome baskets for Compass Cares guests.
Read the full 2022 Compassion Report here.


ABOUT THE AUTHOR
Hey, guys! It's Brianna, the Senior Marketing Specialist at Compass. Find me here on LinkedIn and we'll connect!