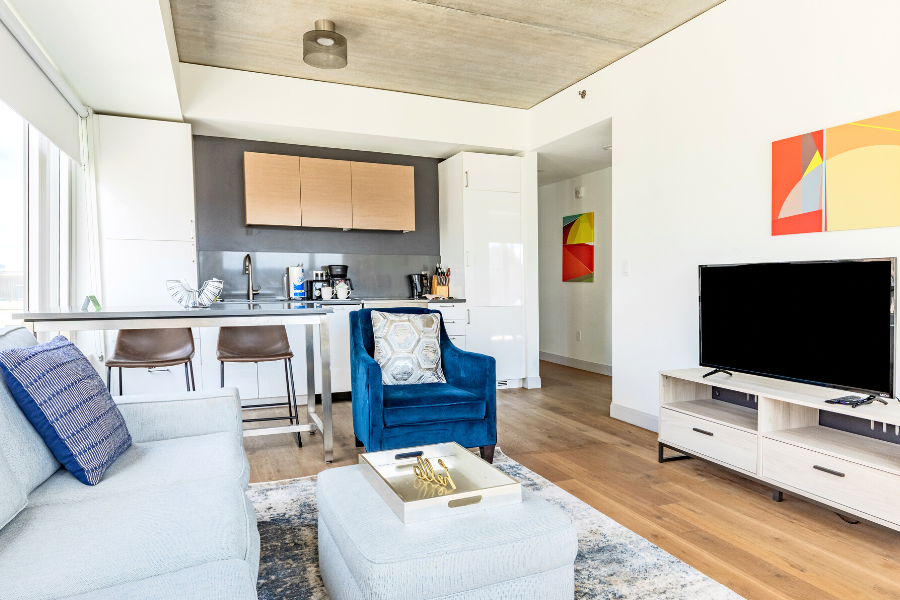 Ever wonder what the difference is between corporate housing and Airbnb? While very similar, they're also quite different. Each has its own perks and may suit a specific travel purpose.
The Professional Ambiance
With Airbnb and corporate housing, the ambiance is well represented within the photos that you may be provided. The difference between the two is that the corporate housing ambiance tends to have a higher level of professionalism than Airbnb does. Corporate housing provides an opportunity to make the space feel like your own home while Airbnb tends to feel exactly like what it is –– someone else's home.
Corporate housing also focuses on work-from-home abilities by providing workspaces where travelers can get work done in the comfort of their own homes. The corporate housing inventory is mainly apartment units rented out with the intention of providing travelers with a temporary home base. This type of housing guarantees privacy, minimal distraction, and premium add-ons like housekeeping, grocery packages, access to amenities, pre-booking tours, and meet-and-greets.
Airbnb steers away from having professional landlords on their website which allows for a more unique and local experience for guests. Airbnb focuses on staying in someone's home for a local experience and is less focused on a productive, professional space like corporate housing providers are.
Difference In Experience
Staying in an Airbnb will definitely provide you with a different experience than if you were to stay in a corporate housing apartment. With Airbnb, you'll get more of a personal experience with local expertise and perspectives since services are provided by private and local individuals themselves. Private individuals may not have the bandwidth, knowledge, or skills to provide a 5-star, white-glove hospitality experience.
On the other hand, corporate housing is engineered to focus on 5-star, white-glove hospitality experiences. Some corporate housing companies specialize in providing great guest experiences and take pride in offering this unique selling point. Any conflicts that may arise are handled by a company that greatly values professionalism and its reputation. Many corporate housing companies even have a guest services team that's dedicated to providing the best experience and service possible.
Difference In Pricing
The pricing of corporate housing and Airbnb are similar, yet still very different. Airbnb is often priced nightly with monthly discounts while some corporate housing providers price monthly. You'll find that even with Airbnb's monthly discount, taking the corporate housing route can often be cheaper.
There are also rental laws that affect the pricing of temporary housing. With Airbnb, for stays shorter than 30 days, the hotel law applies to the booking. Meaning, the guest will pay a hospitality tax on their stay. For stays over 30 days, the rental law will apply instead.
Since most corporate housing providers only offer stays with a minimum of 30 days, the tenant-landlord and real estate laws apply. Some of these differences include that landlords must follow the tough process of eviction if they want a tenant removed. This often leads to additional steps like credit and background checks to ensure the tenant will not be an issue. Also, a lease is required in this scenario in order to cover liability and laws to protect both the tenant and landlord.

ABOUT THE AUTHOR
Hey, guys! It's Brianna, the Senior Marketing Specialist at Compass. Find me here on LinkedIn and we'll connect!