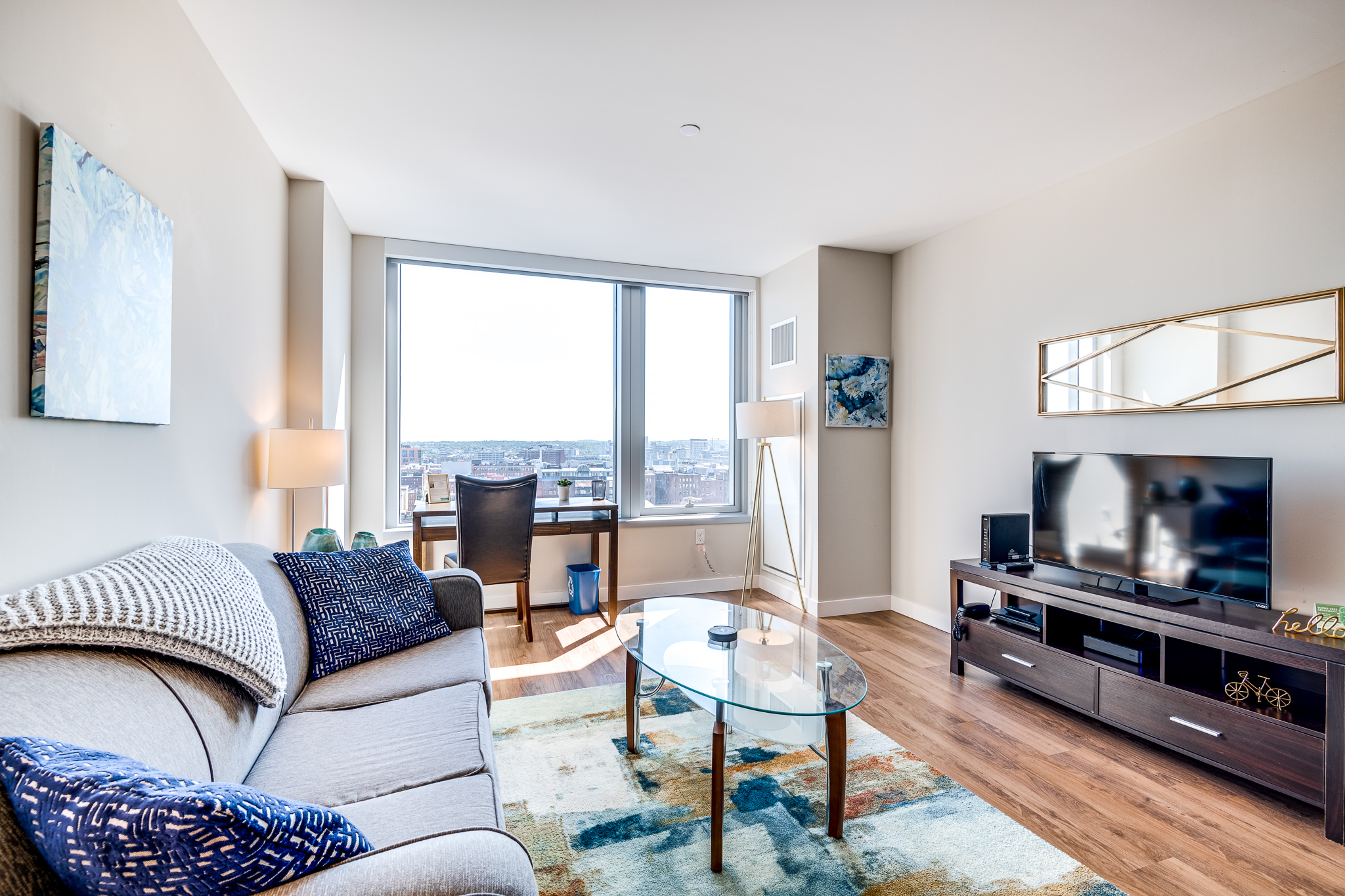 As a Compass employee, I am lucky enough to be able to stay in our apartments whether I am traveling for work or even for a quick getaway. While being a part of the Marketing Team as well as our photographer, I often travel to our different locations to take photographs of our beautiful apartments. In fact, all of the photos you see in this post are mine :). Since I am traveling to our apartments I get to also stay and experience them firsthand.
Not only that, but through our employee perks, we are allotted a number of days in which we can stay in our apartments for personal use as well. I've definitely taken advantage of this and stayed in some amazing apartments. Why wouldn't I? By having the opportunity to stay as a corporate traveler and for personal use I have definitely noticed the benefits of a furnished apartment for each allowing me to market our product in the best way possible.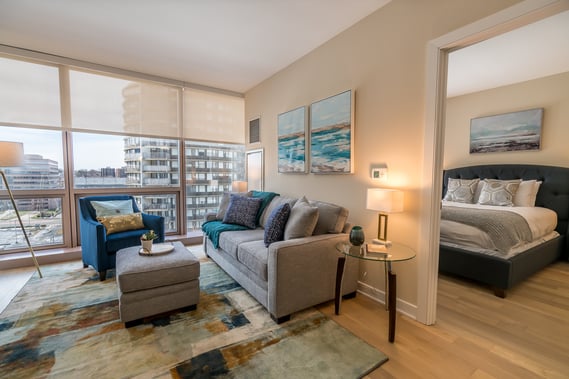 Atlantic Station in the heart of downtown Stamford, CT
Living in Luxury During Corporate Travel
I don't know about you but when I was younger and I imagined myself traveling for work I always pictured it to be in style! However, I also pictured myself wearing pencils skirts and stilettos which is definitely not the case! But, luckily, living in luxury has not been taken off the table.
Being Close to Work
When I arrive at my apartment for work one of the best things about it is that I am always placed close to where I need to be. If I am going to be visiting our office in Quincy, MA I'll stay nearby. If I'm going to be taking photos in the city I'll stay in one of our apartments in Boston. I don't have to worry so much about figuring out public transportation or consider additional travel time.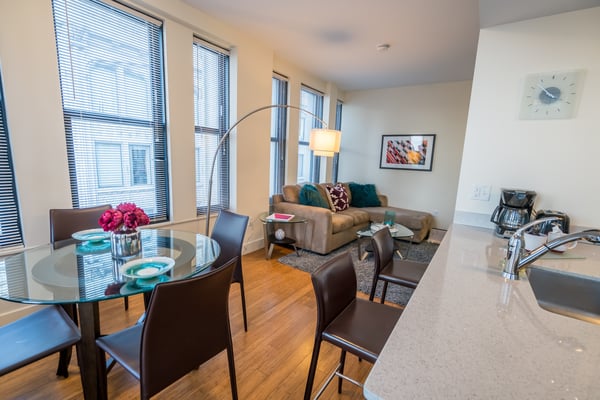 ARTlab DX in the heart of Downtown Crossing, Boston
24-Hour Concierge Services
Living in luxury does not only mean my apartment is jaw dropping but that I'm also well taken care of. Walking into a building where there is a 24-hour concierge helps me feel like everything is under control. If I need any advice on where to get a bite to eat or help bringing my luggage to my apartment I know they will be there to help. I've definitely had many lunch recommendations that not only saved me time finding myself but also was something I probably wouldn't have found on my own. Not only that, but seeing a bright smiling face everytime I walk in and out of the building helps keep my day on a positive note.
Luxury Amenities to Stay on Task
When I have to travel for work I don't want to feel like my health is going to go down the drain at the same time. I put a lot of work into it! Having access to amenities like the fitness center and a kitchen to cook in puts my mind as ease. And I have to say, some of those fitness center make you feel like a celebrity while you're overlooking the city. Even knowing I have access to a residents lounge or business center to do work in if needed is a great feeling!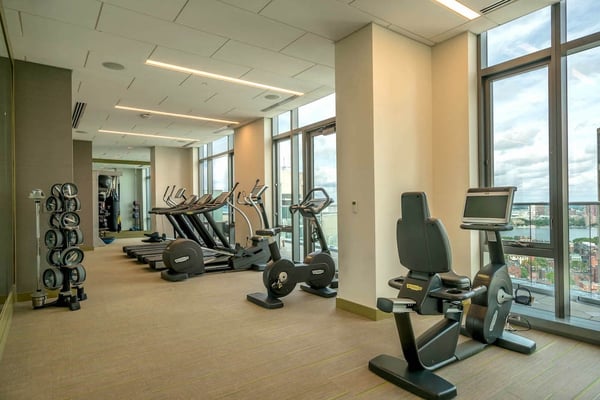 Fitness Center at 30 Dalton in Boston
Comfort As a Personal Traveler
Traveling for personal pleasure can be a little nerve-racking when having to choose where to stay, especially when traveling to a city. Knowing that I will be taken care of in a Compass apartment always makes me feel better. Having the opportunity to view our apartments as a traveler visiting a new city has giving me a different perspective as to what the benefits are.
Living Like a Local Through Partnerships
One thing about traveling to a new place is not knowing where to go without some research beforehand. Whether it's a restaurant, tourist attraction, or even a service I never know where to begin. Luckily, Compass partners with their favorite local vendors to provide their residents with discounts or free items to try them out. So when I travel to a location I'm not very familiar with I get to try my colleagues favorite places from these partnerships! It definitely makes traveling easier and more enjoyable.
Saving Money As a Tourist
When I'm traveling on my own, especially in a big city, I want to try to save money as much as possible. One of the best qualities of staying in a furnished apartment is the fact that you have your own kitchen to cook in. I don't have to eat out for every meal spending at least $10-$15 each time. Even if I'm not planning on cooking a full meal I know I have everything a kitchen offers like a full fridge to put my leftovers in and a corkscrew so I can enjoy my own bottle of wine.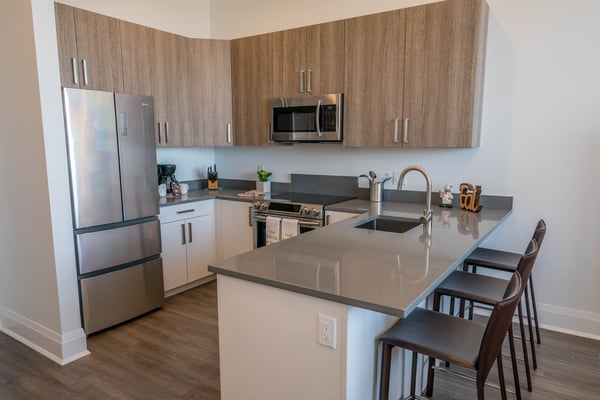 ARTlab Metro 280 in the heart of downtown New Haven
Guidance From Compass
Even though I work for Compass and know all of the nitty gritty details of how everything works, I still find myself feeling taken care of when traveling on my own. I don't have everything memorized for each property so having the help from our Guest Services team is great. Receiving an email with instructions on how to move into my apartment as well as a Welcome Folder with information on everything I needed to know about my apartment and property has come in handy so much. Not only that, but knowing that we have a 24/7 emergency line keeps my mind at ease in case anything happens during my stay.
Final Thoughts
Not only as a Compass employee but also as a Marketer it's always best to experience what I am marketing. As they say, sometimes you don't appreciate things until you experience it for yourself. Staying in our apartments as a corporate traveler and for personal use has allowed me to view our apartments from multiple perspectives. Putting myself in our residents shoes in each situation has not only opened my eyes to different benefits but has helped me guide them to their perfect home away from home while being a part of the Compass Marketing Team.