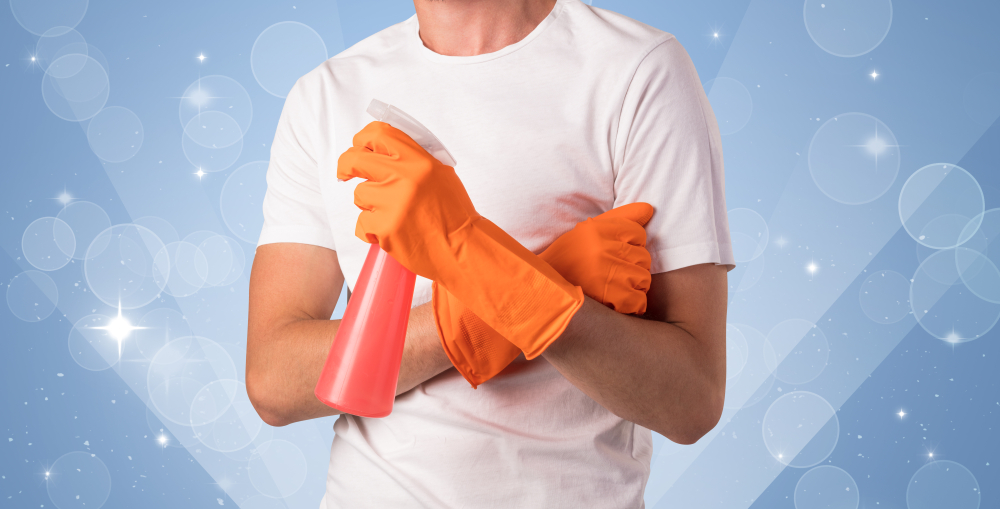 There always seems like there is an endless amount to do, between Spring cleaning and the OCD rabbit hole of keeping our homes and offices sterilized. But fear not, like always, we are here for you!
If you don't know where to start, work your way through these tried and tested cleaning tips, that will add a healthy, sparkle, and shine to any room. Or keep reading to learn how the crew has stepped up our cleaning game to provide an even higher level of sterilization and cleaning excellence.
It takes only a few minutes but cleaning high-traffic surfaces once a day can make a difference in preventing the spread of infection.
How To Maintain A Sterilized Living Space
Let me preface this by saying that this is not your big weekly cleaning, this is your in-between cleaning. So add this to your daily to-do list and get sanitizing!


First, WASH YOUR HANDS.

Put on your gloves (if you have them)

Get your tools at the ready. Think gloves, cleaning products
(preferably 99.9% germ disinfectants, paper towels or wipes, etc)

Soak your paper towels with cleaner or use your disinfectant wipes

Clean your high touch areas
Doorknobs

Light Switches

Microwave doors

Drawers

Refrigerator doors

Chair backs

Eating and cooking services

Don't forget your electronics: remotes, cell phones, keyboards, etc
6. Clean your bathroom last, always! Because ew, duh.
7. Wash your gloves (if you wore them)
8. Finish up by, washing your hands
Make sure to not slack on cleaning! Wipe down the entire doorknob, all of your light switch plates, basically, anything or anywhere you are touching regularly. Doing this daily (in between regular cleanings), will help give you a leg up on creating a safe, comfortable, and sterilized living environment.
Now we get it, cleaning products may be sparse to come by, but that's ok.
Washing with soapy water will do the trick: a few drops of dish soap mixed into warm water paired with some elbow grease will help remove germs from surfaces. Just know that it won't kill the germs, so make sure to throw away all those paper towels, and trash as soon as possible when you're done cleaning.

Go the extra mile by creating and maintaining healthy habits in your home. For example, when you get home, take off your shoes, hang up your coat, and immediately go wash your hands for 20 seconds with soap and water.
If you are using the time at home to get more accomplished, come up with a cleaning schedule. And if the kids are home from school, you can repurpose cleaning chores as a home economics class.

Let's start room by room, tackle one room at a time or one appliance at a time until everything is free of mildew, dust, and grime. When all is said and done, your kitchen, bathroom, bedroom, and every other corner in your home will look just like new.
Now's a perfect time to check some stuff off your to-do list. Not sure where to start? Below are a few items to tackle right away that will make you feel so much better once they are done.
Organize and clean out your kitchen cabinets, fridge, and freezer.

Reorganize your office (recycle old papers, create a zen workspace where you can be most productive

Clean out your closet. Make a keep, donate, and trash pile - sort accordingly.

I mean, we are pretty awesome if I must say so. Compass has always prided itself on its cleanliness standards, staying ahead of the curve (ahem Airbnb), and providing a healthy and clean atmosphere for our guests, crew, and partners. But, that's not saying there's never areas to improve, ESPECIALLY given how the nature of the world is.
Our operations team has been working tirelessly to add in more robust services, standards, and protocols and since March 13th we have instituted the following measures:
1. Where we can, we are adding extra days (at least 72 hours) in between stays to allow for less risk and potential exposure both for our guests and our crew. This allows time for surfaces that could be holding the virus to kill it off prior to our crew cleaning and sterilizing the apartment and getting it ready for our next guests.
2. We are wearing masks and gloves at all times during maintenance visits, turnovers, cleaning of common areas, and in our warehouses to mitigate exposure.
3. We are cleaning common areas in between regular cleanings daily with attention to door handles, and other high touch surfaces.
4. We are delivering mild antibacterial wipes and hand soap with new move-ins when and where possible.
5. We are using professional-grade (as we always have) cleaning products to sterilize surfaces inside and outside of our apartments
6. We have eliminated housekeeping services in an effort to keep our residents home and safe from exposure and person to person contact.
7. Like the rest of the world, we are doing our part to practice social distancing. Our warehouse staff who have to be onsite are maintaining safe distances while working on-site, and our remaining team is working remotely until it is deemed safe to return to office life.

What better way than a compilation of parodies about cleaning and hand washing to wrap up this blog. Oh yea -
ALL REVENUE and proceeds from this song will be donated to GlobalGiving's Relief Fund.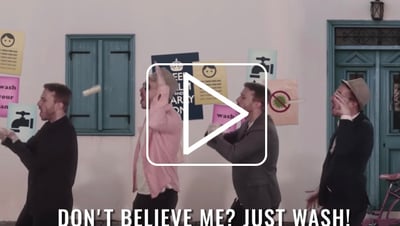 Some light reading

Continue the convo...
Looking for the Compass take on a specific topic? Or just want to say hi?
Drop me a line!
Let's Connect: